Pin It
Kristin Joy Light is from Reading PA and is a proud member of The Artisan Group and The American Craft Council. Joy opened are shop
Joyflower
in Aug of 2008. A mother of three strong boys, she still has time to create this beautiful hand painted silk scarfs. Currently Joy is having a Valentine Day Sale with 15% off any item in her shop... So, take advantage of this and visit her shop at
Joyflower
on etsy!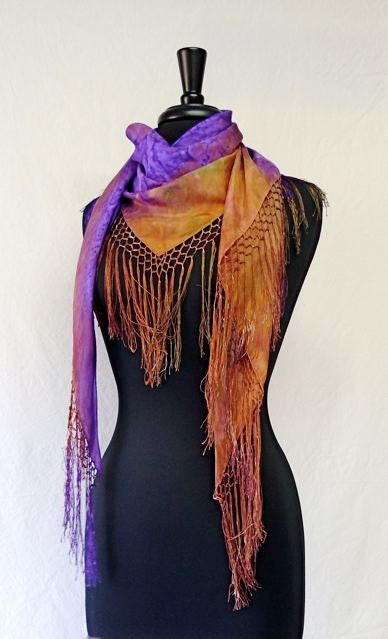 Sedona Sunset Hand Painted Silk Shawl
This Couture Fashion Accessory is fashioned from bias cut habutai silk, adorned with luxurious hand tied silk fringe. Also known as a "Shakira Belt" This warm sienna brown orange and orchid purple shawl is so versatile, classic belly dancing hip scarf style sans shiny objects!
If you would like to learn more about the process of silk painting join Joy for a virtual studio tour demonstration at
www.joysilk.com
Follow '
Joyflower
' on:
facebook:
https://www.facebook.com/JoySilk
twitter:
www.twitter.com/JoySIlk
blogger:
http://www.joysilk.blogspot.com
Next we will meet
Empty on the inside
Working towards boosting the shops of our members! Through cooperative promotions, marketing and advertising, our members work as a Team so all will prosper.

If you are an etsy curator or planning to become one, you can see more about our team here: BESTeam